I've become
obsessed
with power walking, dieting and losing weight. It all started a few months ago when I looked at pictures of myself and was
appalled
at what was staring back at me.
Since then I have started power walking 2.5 miles per day, usually with a 3 pound weight in each hand and sometimes with ankle weights on. I have cut out all fried foods, which in itself is a miracle. I eat lots of veggies, sliced tomatoes and Slim Fast Shakes.
So far I have lost 13 pounds, but seem to be at a stand still right now. Not gaining, not losing. This morning my neighbor, Joy, who probably gets sick of me calling her to walk with me every day, told me to add more protein in the morning. Maybe a bagel with peanut butter.
This picture is looking back from my 1/2 way mark of my walk. I have pulled two hills. About 1 mile.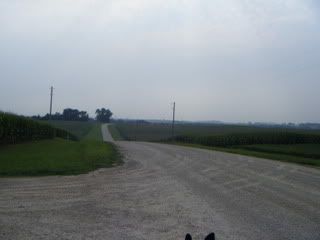 This picture shows Joy walking up to meet me at this 1/2 way mark. She lives at the farm just behind her on the left.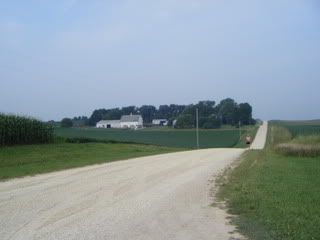 Angel, my German Shepard, knows the routine. When she sees me bend over for me tennis shoes she can hardly contain herself. Her walk consists of swims in the creek, chasing up pheasants and running through the corn fields.
I feel much better these days and seem to be in a better mood. My goal is to lose 20 more pounds before this winter and Isla!! Then to maintain the exercise and healthy eating.