I am such a bad mom. My boys have not had professional pictures taken of them since they were about 3 years old. (Besides Joshua's graduation pictures in 2006)
So last night my neighbor Joy, who takes pictures of her kids every year, and I decided to do a photo shoot in some of our beautiful neighborhood surroundings. These are just a sample of the ones I took with my camera. I haven't been able to view Joys yet, but I am sure she has some awesome ones. Joshua was not home from work yet, so we will have to have another shoot when he is available.
This is probably my favorite. Jeremy sitting down by the creek.
Then a serious pose.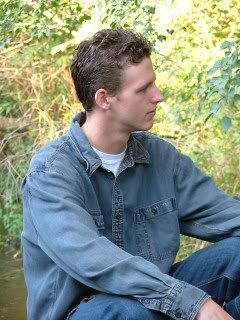 Of course, Angel had to get in the action.
Then we took some up in our yard on the big boulders that seperate the 50 foot drop into the old quarry.
Hacker, our cat, wanted to get in the action too.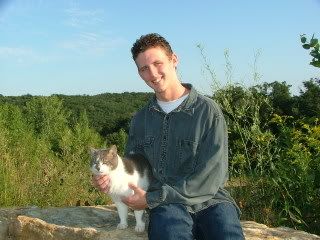 Then Jeremy's girlfriend wanted him to do a seductive pose. She wanted him to take his shirt off, but mom wouldn't have any part of that!!
And then, of course, one with the girlfriend.
I did figure out that lighting is important. Can't wait to see Joy's pictures and take another shoot with Joshua and Jeremy together. Maybe we will go all out and do a family picture.