My Isla Neighborhood
Click, Clack, Click, Clack……the sound of those suitcase wheels rolling across the streets of Isla on the way to my apartment. At this point, it is such a joyful noise.
I usually walk from the ferry to the apartment, taking in the scenery on the way. Sometimes it's a new building that has popped up in the last two months or another restaurant that has closed in the last two months or maybe a new shop that has opened. Whatever it is, there is always something new to see, even after a few months.
Saying, "Hola" to the people that I pass along the way, I look ahead with determination and plopping that suitcase inside the apartment. Welcome back hugs are waiting for me from all of my neighbors.
My walk takes me from the ferry, up Morelos Street, past the Municipal Building and Super Express. Past the New Zocolo….we won't talk about that! Turning Left on Guerrero, dodging Scooters, cars and golf carts, past the Hospital and then I see it. Madero Street!!! As I turn the corner I spot my favorite little Mini Super Owner, Norma!!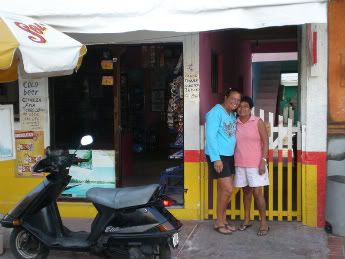 "Brenda" she shouts with enthusiasm. "Brenda, Brenda, Brenda." For some reason she always says my name three times. Maybe it is to bring me luck, but the sound of her voice instantly warms my heart.
"Norma, Norma, Norma" I say as I drop my suitcase and wrap her little body up in a big hug.
As I turn to enter the gate to the apartment I realize that something is missing!! The street seems so quiet. Then I realize, El Sol Golf Carts has moved!! The normal line of carts up and down the street are gone.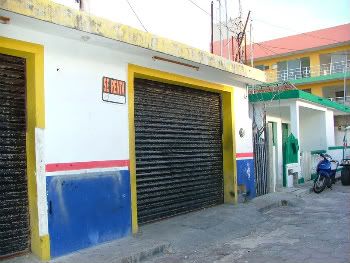 My boys are gone and won't be opening that garage door every morning at 9am. We use to sit around with them after work and play Uno or Mexican Dice, drink some cervesa's and surf the internet together. El Sol has now moved over to Jaurez Street into a nice new building.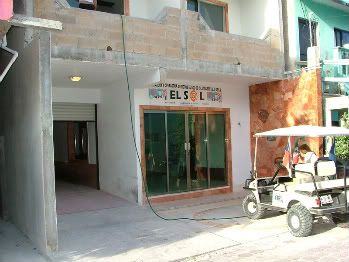 As I enter "the compound" I can't help but feel a little tinge of excitement as I pull out my key to Apartment Number 2. I open the door, it seems a little sticky today, but the humidity always makes it stick.
"Ahhhhh, I'm home" I say out loud.
It doesn't take long for my Mexican Son, ChuCho, to realize that I'm back. "Hola, Amor," I say. "Hola, Mamasita," he says back.
Then I show him the package he has been waiting two months for. His electric bass. His baby. It doesn't take him long to open it up and start playing it for me.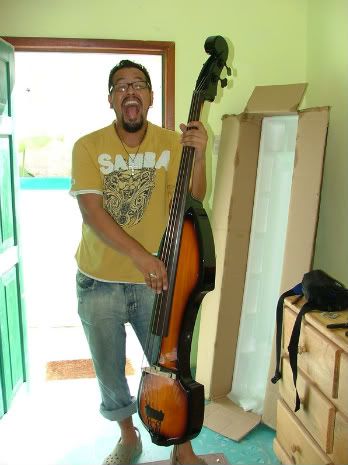 After settling in I take a walk up to the roof and look towards the sea wall. I know ChuCho will be busy playing with his new baby!!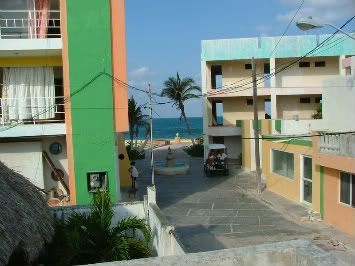 Perla Del Caribe is now closed. Only a few left over workers living in the empty rooms. The pool is empty. The electricity and water are shut off, but the protection of the building is still there for our little apartment when the winds of the next hurricane come. It's really too bad someone couldn't fix it up a little and reopen it. I had heard it was scheduled for demo last April, but still nothing. I think the buyers found out that they could run into issues with it foundation landing in the Federal Zone and if they were to demolish it and try to build a new structure there would be many loopholes to jump through and most likely many palms to be greased.
Next person to greet is Raphael. He is a diver Brian met who lives back by Perla Del Caribe. He and Brian have become great friends and dive buddies. When Brian is not with me, Raphael is always a bit disappointed.
Raphael has three, sometimes four dogs. Spaghetti, the once security guard at Perla. Little Chihuahua with a big attitude. He would take on any dog that step foot on his turf. Raphael has one of Spaghetti's sons whom he named Rambo. What a cutie. He also has Princessa and the third one's name is a blank right now.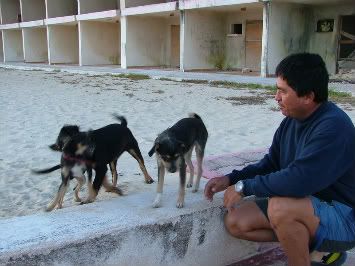 Being back in the neighborhood on Isla!! This is where my heart will always be.
As with the changes of the scenery on the walk from the ferry, so is the change of the scenery in my Isla neighborhood. People move in, people move out, businesses come and businesses shut down.