I finally packed on Tuesday, the day before leaving for Isla. Two bags, one weighing 70 pounds!! (Must of been that heavy Super Mega Bottle of Teeth Whitening Listerine for....you know who you are!!LOL) Good thing was, only one small bag came back with me!
Our flight down was smooth and I had a nice window seat. I, who cannot sleep on planes, fell asleep for a little while. I had a connection in Memphis, which also went smooth.
Upon take off from Memphis we had a very sick passenger with an air sickness bag, that looked like it was a little late, spending most of the flight in the bathroom.
When Immigration in Cancun spotted him in line, they pulled him out and took him to a seperate room. I spotted his wife, alone, at baggage claim. Don't know if they took him to the hospital.
Green light, thank goodness!! Don't know if I would be able to rezip that 70 pound bag!!
Outside, Jeri and Steve were waiting to pick me up!! We stopped and shopped at Costco. Anejo, check. Coca Light, check. Off to the car ferry.
The streets of Cancun were still showing signs of flooding from all the rain.
Our ride across on the car ferry!! This little guy was waiting patiently for a scrap of food from the vehicle in front of us.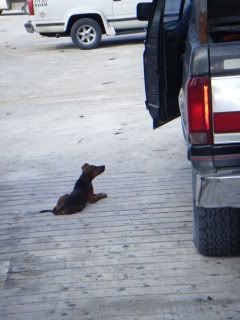 Cheers to being back Mi Amiga!!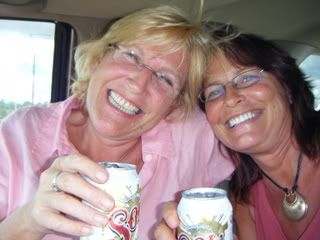 I watched Jeri and Steve as we passed by Isla and I wondered what they were thinking after almost one year of packing up and moving to Isla.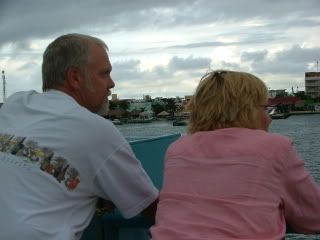 I just love these two!!
The sky's still looked like they were going to dump at any minute, but we did get lucky and were able to sit up top the whole time.
Here is a picture story of the Isla Coast when you arrive by Car Ferry.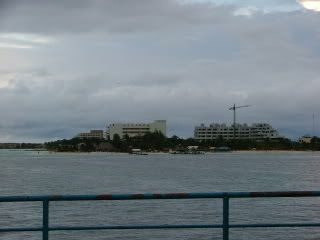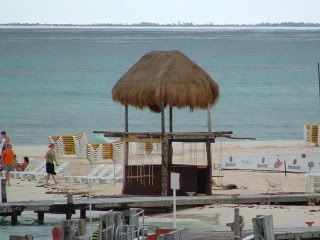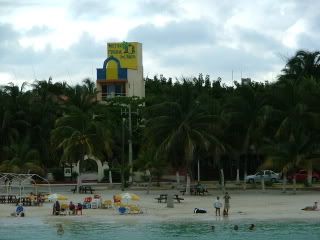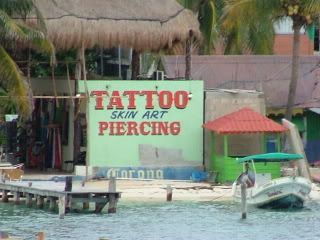 We dropped my bags and groceries off at the apartment and then over to Jeri and Steve's to unload their parcels and relax with an Anejo and Coca Light!!
I went back to the apartment to unpack and get settled. Would be back later. We had a big supper planned for my home coming!!
Later, the grill master, Steve, started the grill while Jeri, the next Paula Dean, made awesome garlic potatoes.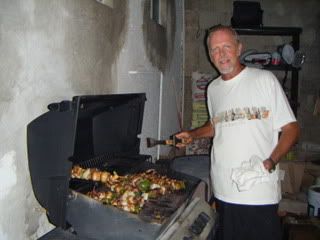 Couldn't have asked for a better dinner!! We ate in one of the new La Vida Dulce Casitas!! More on that later!!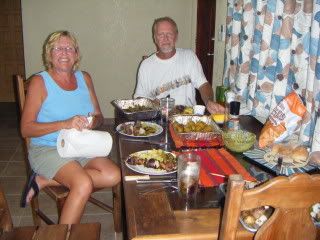 I met ChuCho downtown later and listened to two of my favorite musicians while having a night cap.
ChuCho tickling the keyboard to welcome me home!!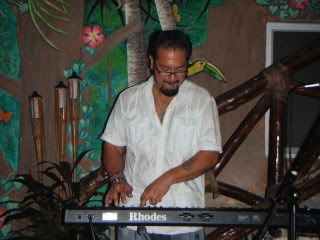 Javier and ChuCho Jamming together!!
I think my day has been full!! It is time to head off to dream land. I forgot to mention that I had lost over 20 pounds since my last visit to Isla. Tomorrow morning will be up and on my walk, to keep those pounds off!!