You may be asking, "What Happened to the rest of Waking up on Isla?" It was spent cleaning the apartment, fixing shower heads, water leaks, hanging medicine cabinets and wall decorations. (With the help of Steve the Plumber/all arourd handy man!!)
The next morning I recruited Jeri for my morning walk. We walked the whole airport strip, checked on a friends house and then headed back. On the way back we started by dodging a rain shower under a tree. Jeri is trying to figure out how to start some plants from cuttings. Caught her borrowing a few cuttings!!
We walked back, cutting down Juarez, behind the Navy Base.
Checked out the progress of the new CFE Electric Company Building
Decided to check out the New Yellow Hotel, that still has not opened up. (Get to it by going up the stairs to the old Navy Store Entrance). We did get a guided tour by a guy who may have been the job super.
View from one of the Penthouse Suite Balconies!
You can look right in to the Navy Base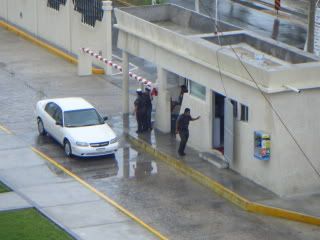 Had a great view of the Car Ferry getting ready to pull in to dock.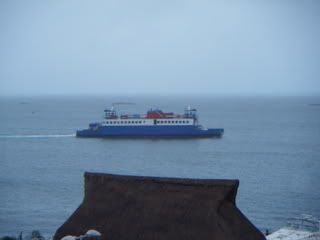 The skies are clearing. Let's get some breakfast and hit the beach!!
The winds were still pretty strong, but we made the best out of it....with a few cervesas.
Laura and Wanda met us on the beach while we waited for Doris and Jan to arrive later in the afternoon. Kathryn was working and would be the welcoming committee.
After saying, "No Gracias" to many beach vendors, a little girl came by selling bracelets. How could I resist this little cutie?? I decided it was time to buy the girls friendship Ankle Bracklets.
Jeri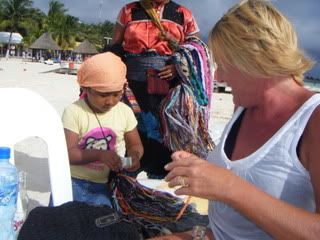 Laura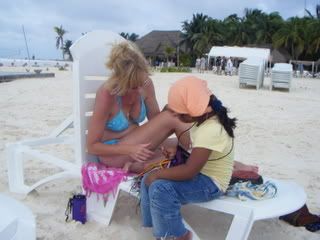 Wanda
And one for myself.
Yes, there are a few more I will have to buy on the next Chick Trip!!
When the clouds looked like they were ready to dump rain, we moved under the Palapa.
Kathryn, brought Jan and Doris down for the beginnings of an awesome "chick trip!" As the days progressed, more chicks arrived! Laughing and smiling would become a prerequisite for starting my day!!
Is this the traveling Bra???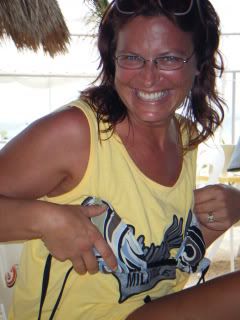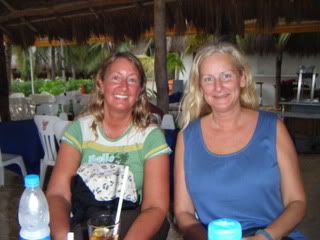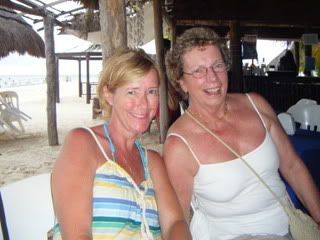 After a few rounds of 2 X 1 Happy Hour Drinks at Playa Sol,
it was time to head off for some supper. We all decided to go to "Justicia Social", since a few had never eaten there.
On the way, the "Bombo Girls" were created!! (It's all Carl's fault). Sorry girls, but I have to repost the picture. Figure I don't need permission, since I posted it once already in another forum.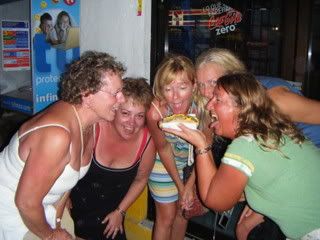 Dinner was awesome!! Red Snapper, whole, deep fried!!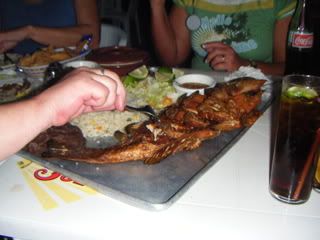 Mapchick began documenting!!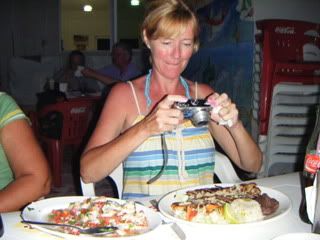 After dinner, it's time to move the party to Miguel's Moonlite!! Look at this...No drinks???
Then it was off to Faynes to listen to Javi, with a sit in by ChuCho!!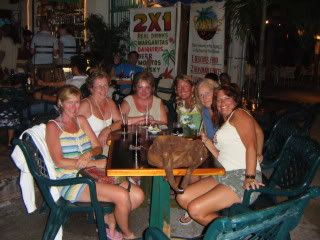 Javi (My Good Friend)
Chucho...My Mexican Son
Alex..My Mexican Husband (There is a story behind that)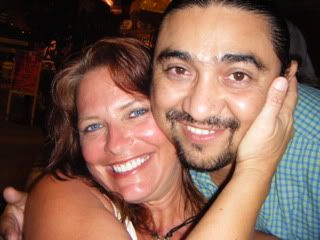 After the beginnings of many good times to come for the week, I recruited Wanda and Doris to walk the next morning with me.
We said our good nights and headed off to rest up for our next ab work out!!