Last week I had to spend some time in downtown Rochester, Minnesota. I usually try to avoid this area because I can't stand fighting traffic or trying to find a parking spot.
It was a beautiful fall day so I decided to revisit one of Rochester's breathtaking sights. The soldier's Field Veteran's Memorial.
A few years back I had a "paver" made to honor Biggy B. These pavers extend around the whole walkway surrounding the memorial.
The fall leaves made for a beautiful shot of the memorial from one side.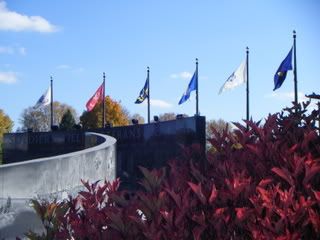 Then I laid down on the ground to get this next picture. With the Rochester Skyline reflecting off the memorial and the flag waving amidst the reflection. I tried to capture the picture as I was experiencing it, but the picture will never convey the overwhelming emotions I felt as I laid there on the ground reading the names off all of the men and women who gave their lives to give us the freedoms that we cherish.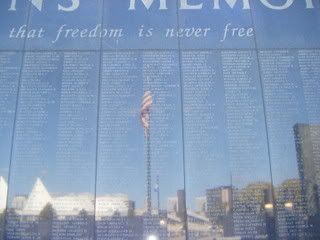 Thank you to every one who has served and given me the freedom to post this!!